Petit Robert Bistro, Kenmore Square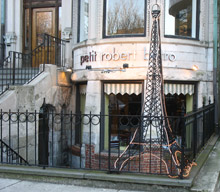 F
irst and foremost, I would like to apologize for my 10 day hiatus. I was in New Jersey, and we all know there is not much to blog about over there!
I went on another rendezvous with Mr. JOHN DOE, or shall I say Sherlock Holmes (he was wearing a funny detective coat that I was teasing him about.) It was a rainy Wednesday evening, and Petit Robert Bistro seemed like the ideal, "homey" place to grab some drinks.
Petit Robert is a little french cuisine located on Commonwealth Avenue. Honestly, there is only one way to describe what this place was like. I felt like I went back in time to the Prohibition Era and was sneakily drinking in a speakeasy. Furthermore, John Doe's detective trench coat added to the 20's feeling. The ceilings were low, walls were brown, and the doors were long and skinny. It was really warm however. My date can vouch for me as I kept saying "Dude! I am sweating balls!" Real attractive, right?
(a speakeasy)
Me: "What do you think is the mean of all the people here excluding us?"
Maybe it was the night of the week, but Petit Robert seemed to attract
really
old people. The table adjacent to the bar seated a handful of old farts who looked like Albert Einstein's brothers - all clad in polka-dot bow ties, thick black glasses, sporting their wide Hungarian mustaches.
This time our conversations were a little more serious. We talked about everything from suicide to the more interesting topic of tranny prostitutes who dominate the Eiffel Tower area. (I am sure he wanted to kill himself after watching me profusely sweating for no reason.)
Petit Robert Bistro is a really cute place. I know this is a short post but I really don't have anything bad to say or anything more to say as I was only there for maybe 45 minutes. All in all, it is a cozy, "blast from the past" type of place with really personable & friendly staff and a great drink menu that provides an intimate setting for a date.